School is out and these summer crafts will add fun to any child's summer holiday. These are easy and inexpensive kids crafts!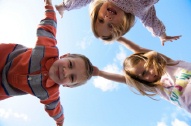 Summer makes us think of sunshine, water fun, bugs and of course bubbles. Try one of these great summer projects to help celebrate the season, or choose from one of our many other crafts to keep busy during the entire summer vacation!
Sandscape

Ages 4 and up
Kids can spend some time at the beach by making their own Sandscape, complete with real sand, shells, starfish and seagulls!
Fireflies

Ages 2 and up
Have the kids make their very own Fireflies. This is an easy and fun summer craft, suitable for toddlers on up!
Parachute-Guy

Ages 3 and up
This Parachute Guy is a super fun craft for kids to make, and it's just as fun to play with him! There are two options for this craft: print out Parachute Guy already colored, or color him yourself!
Homemade Sidewalk Paint

Ages 2 and up
This Homemade Sidewalk Paint is so easy to make and is eco-friendly too! You can make it in different colors and it wipes right off!
Sand Foot Prints

Ages 5 and up
Make your own Sand Foot Prints from dirt from the
beach or from your very own back yard!
The Bubble Factory

Ages 3 and up
The Bubble Factory is our homemade bubble blower, kids love this craft! All you need is an old margarine tub, straw, hole punch and dish soap and you've got instant summer fun!
Marble Painting

Ages 3 and up
Kids will love Marble Painting! It's fun to watch the marble smear different colors of paint around the 'canvas' and make a beautiful masterpiece!
Paper Plate Watermelon

Ages 3 and up
This Paper Plate Watermelon is a great craft for toddlers and preschoolers to celebrate the summer season! You could use real watermelon seeds for this craft, however, if you're doing this with a group you may have to eat a lot of watermelons to get enough seeds!

Lemonade for Sale

Ages 3 and up
Get your Lemonade! Lemonade for Sale! This kids will love to make their own paper lemonade table, complete with lemon slices! A great summer craft!
Paper Punch Lady Bug

Ages 3 and up
Why not make this easy Paper Punch Lady Bug? Hole punches can be the most intriguing craft tools, especially to preschoolers – and the space in the hole punch is too small to get little fingers caught in so it's easier, and safer than scissors!
Summer Flip Flops

Ages 4 and up
These Summer Flip Flops are a creative summer craft for kids. Decorate your flip flops in what ever embellishments you have around the house.
Popsicle Paints

Ages 3 and up
These popsicle paints are a fun summer crafts for kids. Just make sure you make a lot because they may melt before you've finished having fun with them! Just make sure the children you are doing this craft with know that these 'Popsicles' aren't for eating!

Giant Ice Cream Cone

Ages 5 and up
This Giant Ice Cream Cone is a fun way to celebrate the summer season. Choose your own ice cream flavors to scoop on top of the giant cone!
The Bug Jug

Ages 4 and up
If you have a bug enthusiast in the house try 'The Bug Jug' kids craft. It's a homemade bug collecting jug that is a perfect fun summer kids craft!
Bubble Stamping

Ages 3 and up
This Bubble Stamping is so easy and so much fun! This can make some great artwork, it would also be a cute idea to make your own homemade gift wrap! A great craft for preschoolers!
Bubble Blower

Ages 3 and up
Have bubbles but no bubble blower? Try this easy kids craft and make your own wand! Once you dip into bubble solution and blow you'll see a whole bunch of tiny bubbles appear!
Free Summer Printables
Check out these great Summer Printables like coloring pages, mazes, word searches, stationery and so much more! All from our Sister Site – busybeekidsprintables.com. You'll find tons of fun free printables suitable for preschoolers on up!
Sign up for our FREE Newsletter
The Busy Bee BUZZzzz

You'll get the BUZZzzz on our new crafts, featured crafts for up coming holidays and seasons, AND learn some fun and useful tips for doing kids crafts – all delivered to your inbox from busybeekidscrafts.com.


Your email address is totally secure, it is only used to send you the Busy Bee BUZZzzz.
Click here to find more kids crafts like these Summer Crafts